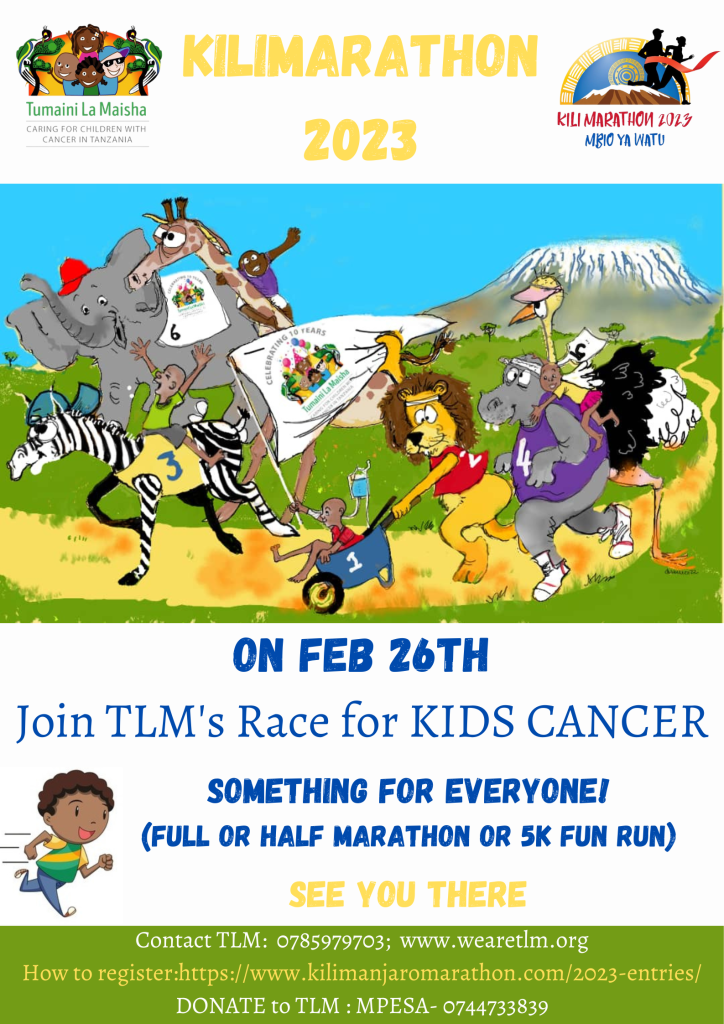 For the second year running (pun intended) Tumaini la Maisha is delighted to announce we have been nominated the 2023 Kilimanjaro Marathon official charity!!
In 2022 we began this partnership and our runners and donors raised $10,000 for TLM, which we decided to donate to our regional partner The Kilimanjaro Christian Medical Centre [KCMC] in Moshi, to support the Children's Cancer Service.
KCMC in Moshi is one of our most active and successful partners through the National Children's Cancer Network, NCCN, as they treat over 100 children annually entirely free of charge. TLM provides the KCMC children's cancer service with: all chemotherapy, many other supportive care medications and specialist consumables (bone marrow needles, filters etc) required to treat their paediatric patients; access to central pathology review and rapid leukaemia diagnostics through our partnerships with Muhimbili National Hospital and Children's Health Ireland; government health insurance cards to any eligible childhood cancer patient in need; and transport for any child who needs referral to Dar es Salaam for sub-specialist treatment or elsewhere as needed. Thanks to the funds raised through the marathon we have also supported a junior doctors' stipend and some nutritional supports. All of these supports are offered entirely free of charge by Tumaini la Maisha.
We have decided that all proceeds raised through the marathon will be used to fund all of TLM's activities and clinical supports at KCMC this year again, as we continue to grow this service with our wonderful partners.
KCMC is also an important partner for the marathon due to its medical support at the event, both on route and at the finish area; the hospital is an important landmark the runners pass on race day. In 2023 – the families of children with cancer will be outside cheering all the runners on – thanking all who contribute to their child's care.
This year the Kilimarathon organisers will donate 5% of every official entry. In addition there is an option for all runners to add a donation to their entry fee. So please register for the KiliMarathon, Half Marathon or 5km Fun Run AND please consider adding a donation to TLM at registration, no matter how small, to save a child's life with your entry fee.
Please give generously and support our runners.
TSh 1600000 of 10000000 raised