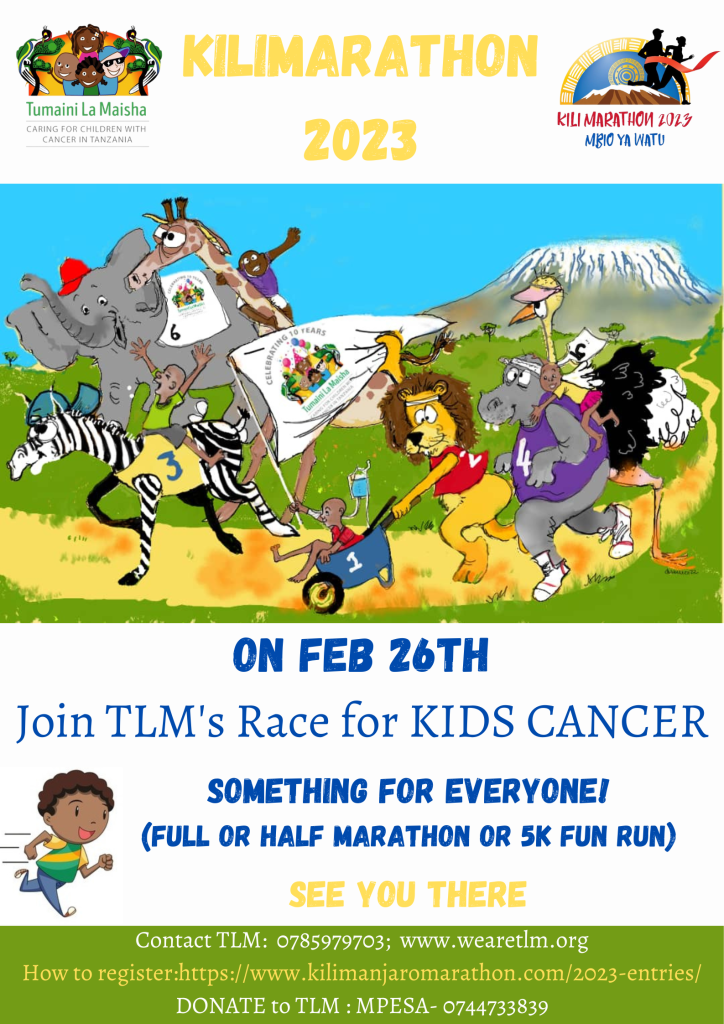 For the second year running (pun intended) Tumaini la Maisha is delighted to announce we have been nominated the 2023 Kilimanjaro Marathon official charity!!
KCMC is also an important partner for the marathon due to its medical support at the event, both on route and at the finish area; the hospital is an important landmark the runners pass on race day. In 2023 – the families of children with cancer will be outside cheering all the runners on – thanking all who contribute to their child's care.
This year the Kilimarathon organisers will donate 5% of every official entry. In addition there is an option for all runners to add a donation to their entry fee. So please register for the KiliMarathon, Half Marathon or 5km Fun Run AND please consider adding a donation to TLM at registration, no matter how small, to save a child's life with your entry fee.
If you would like to officially raise funds for TLM while you train you can create your own fundraising page where your friends and families can sponsor you. In this way your epic run around the tallest mountain in Africa will save the lives of children with cancer treated at KCMC – a hospital you will pass on your run.
Please request your own sponsporship page using the form below and we will email you requesting your details for you new page and we will let you know when it is set up for you. As a thank you we have 10 free entries to give away to the first 10 people who register to set up a fundraising page.
And so we urge you to support TLM's activities in order to strengthen paediatric cancer services in Tanzania most specifically in the Moshi, Kilimanjaro region.
Good luck everyone – and see you saving lives on the mountain!
Find your runner fundraising page below …
TSh 1600000 of 10000000 raised