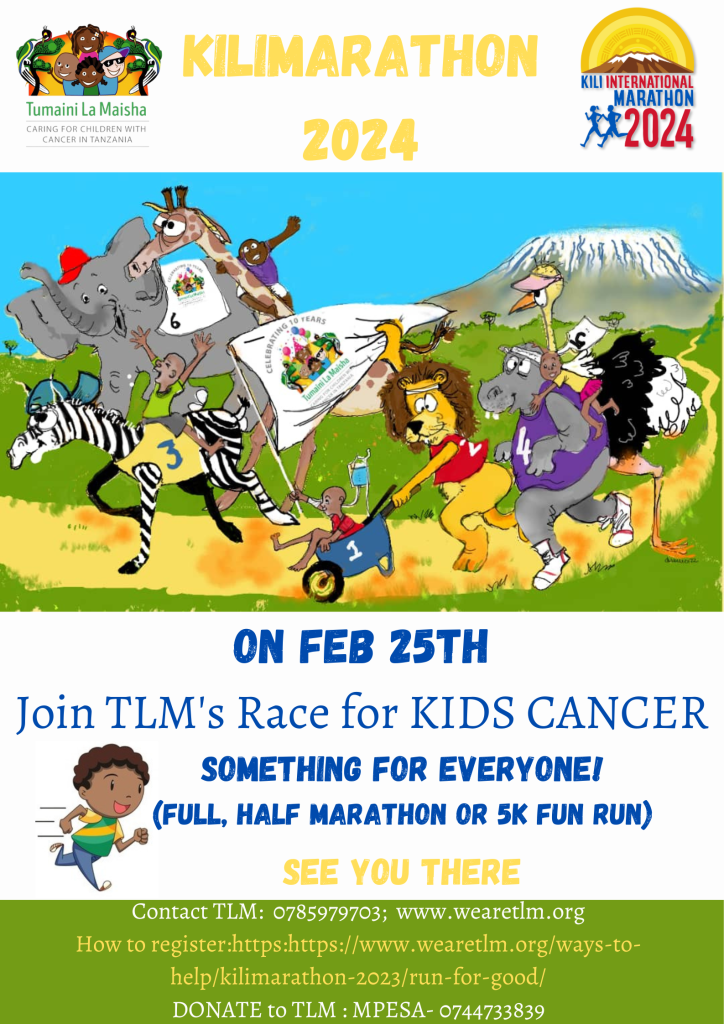 As the official charity for the Kilimanjaro Marathon, we are thrilled to announce the upcoming 2024 marathon!
In 2022, we embarked on this partnership, and the collective efforts of our dedicated runners and generous donors allowed us to raise an impressive $21,000 for Tumaini la Maisha (TLM). In a spirit of continued support, we decided to direct this contribution to our esteemed regional partner, The Kilimanjaro Christian Medical Centre (KCMC) in Moshi, with a specific focus on bolstering the Children's Cancer Service.
KCMC in Moshi has emerged as one of our most active and successful partners within the National Children's Cancer Network (NCCN). They tirelessly provide treatment, entirely free of charge, to over 100 children each year. TLM plays a crucial role in empowering KCMC's children's cancer service by supplying essential resources such as chemotherapy, various supportive care medications, and specialist consumables (including bone marrow needles and filters) vital for treating their paediatric patients. We also facilitate access to central pathology reviews and rapid leukaemia diagnostics through our invaluable collaborations with Muhimbili National Hospital and Children's Health Ireland. In addition, we provide transportation for any child requiring referral to Dar es Salaam for sub-specialist treatment or other destinations as required and thanks to the generous funds raised through the marathon, we have also been able to support a stipend for junior doctors and provide nutritional assistance. It's worth noting that all these forms of support are offered entirely free of charge by Tumaini la Maisha.
In our commitment to further develop and expand our services in collaboration with our remarkable partners, we have decided that all proceeds generated through the marathon will be directed towards funding TLM's activities and clinical support at KCMC.
This year the Kilimarathon organisers will donate 5% of every official entry. In addition there is an option for all runners to add a donation to their entry fee. So please register for the full Kili Marathon, Half Marathon or 5km fun run AND please consider adding a donation to TLM at registration, no matter how small, to save a child's life with your entry fee.
If you would like to officially raise funds for TLM while you train you can create your own fundraising page where your friends and families can sponsor you. In this way your epic run around the tallest mountain in Africa will save the lives of children with cancer treated at KCMC – a hospital you will pass on your run.
Please request your own sponsorship page using the form below and we will email you requesting your details for you new page and we will let you know when it is set up for you. As a thank you we have 10 free entries to give away to the first 10 people who register to set up a fundraising page.
And so we urge you to support TLM's activities in order to strengthen paediatric cancer services in Tanzania most specifically in the Moshi, Kilimanjaro region.
Good luck everyone – and see you saving lives on the mountain!
Find your runner fundraising page below …
TSh 0 of 1000000 raised