In 2015, Alqaim Lalani then a student of the International School of Tanganyika (IST) led a group called the 'Cancer Initiative'. They came once each week to Ujasiri Hostel and taught the kids various skills such as numeracy and the arts. From this, the young student saw the opportunity to use some of the sewing machines at our skills program workshop to produce handbags, jewelry and other crafts made from kitenge fabric. During their 'Arts Out Loud' festival at IST, these items were sold. IST students, some of our own children and their parents went to the IST to sell the handbags they had been making. To the surprise of Alqaim and the team, the bags were a huge success and a new idea was born.
Tumaini La Maisha – Cancer Initiative: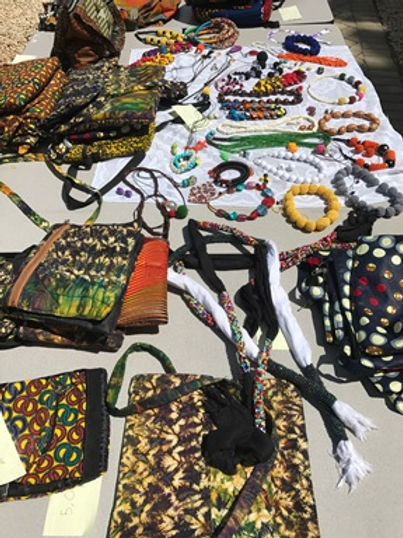 Alqaim founded a social enterprise to help support the children's cancer activities done by TLM. Through this initiative he has been able to get others interested in supporting kids with cancer by acquiring the handbags aiming at raising funds for the kids with cancer. The demand for the handbags increases all over Dar es Salaam and the wider Tanzanian community. Hundreds of bags have been sold and the total earnings are over 6 Million Tanzanian Shillings. All the parents who volunteered to participate have also been compensated for their efforts.
Impact:
This Cancer Initiative has made significant contributions towards the funds required to provide free comprehensive care to all the children attending our service. A recent crowd-sourcing fund was initiated in the United Kingdom on the online platform 'JustGiving' with a goal of 5,000 Euros; in just a span of 12 hours, enough money for 14 chemotherapy dosages were raised. Major donors as far as North America and Europe have pledged 2,000 Pounds towards supporting purchase of chemotherapy for the kids.
The Future:
Alqaim is now a rising high-school junior at the Aga Khan Academy Mombasa. He is still working towards expanding the Cancer Initiative. In the words of Alqaim, "I am deeply grateful to TLM family for supporting me in my endeavors. The TLM mission is one I truly believe in."
Contact nydnvz.ynynav@nxnzbz.bet to purchase one of these fashionable bags for yourself and learn more!