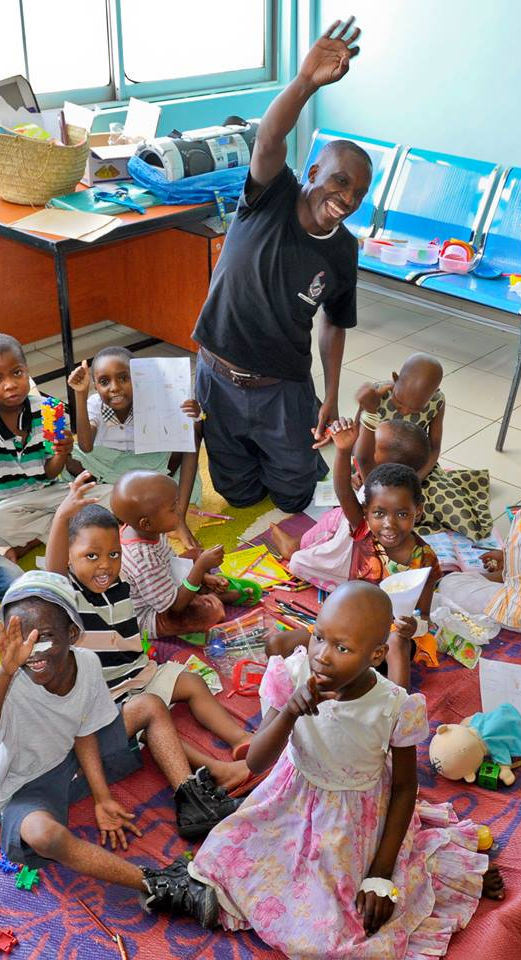 We have already established a play therapy programme at MNH, which is vital to the children's well-being and everyone's happiness. It was created by two internationally certified play therapists. The therapeutic play programme includes activities in the junior classes at the daily school and the establishment of a 'one-to-one bed programme' where a specially trained teacher plays with those children who are bed-bound. We are also hoping to increase our Child Life activities – a programme to gently introduce children to hospital procedures.
We have also established a school programme in MNH which is led by 2 qualified Tanzanian teachers, assisted by play therapists and clown doctors. The children are split into three groups, the older ones are known as the Simba (Lion) aged 13+, Tembo (Elephants) aged 6-12 and they cover subjects such math, literacy and arts and crafts projects. The younger group is called the Sungura's (Rabbits) aged below 5 years and this group focuses on playing and entertaining the children to stimulate them, make them smile and laugh and generally be children and forget about being patients for a while. It also helps by giving their parents a well needed break. The older group, the Tembo's, have more academic classes but due to the ever changing attendance and the temporary nature of the school they need a lot of individual attention when studying. The purpose is to allow the children a level of normality and fun in their lives, a way of escaping their medical realities for a few hours each day.
Having established the value of play and school therapy as part of the approach in all non-clinical services, our proposal will establish play and school therapy programmes currently implemented in MNH to KCMC and BMC.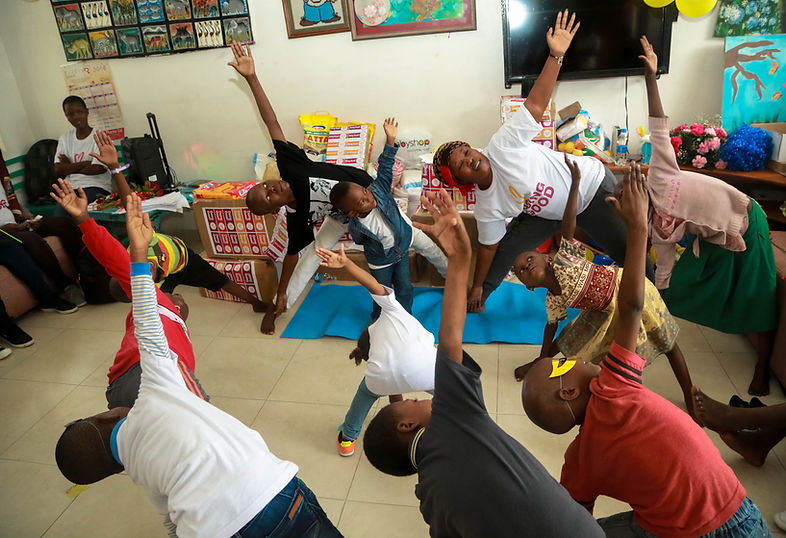 One of the most fun aspects of our play therapy programme is our Clown Doctors Programme. Our friends from CEFA have trained some wonderful artists to work fulltime as clown doctors. They visit multiple sites around Dar es Salaam and we are lucky enough to be one of their target groups. The children love them and they brighten everyone's day. Since their training completed we have employed 3 clowns on a full time basis. In addition to their clowning around one has also trained as a yoga instructor and provides separate yoga classes for children, parents and staff.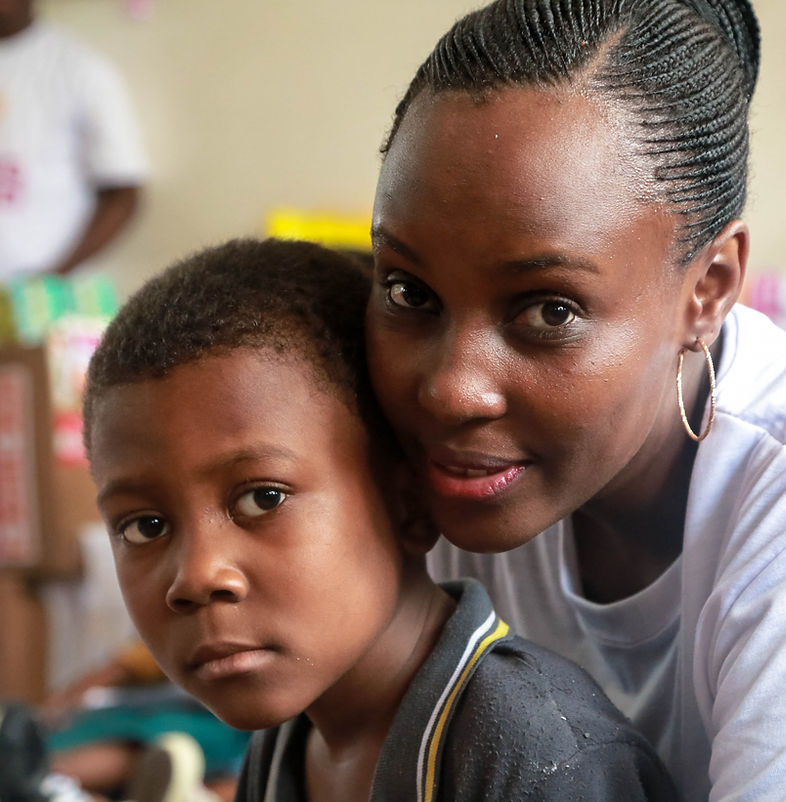 Individual and group counseling sessions is an important part of our support care services offered to all children and families admitted to Upendo ward. Families and children learn about their different cancer conditions and also have opportunities to ask questions or express fears and share emotions. The group therapy sessions are extremely interesting and valuable as individuals become part of the cancer care community.
End of life issues are extremely important to address prior to discharge in our setting. We can rarely visit a child at home given the distances and also the number of children attending the service. But parents take some comfort by being well counseled and prepared prior to discharge and having Dr Jane Kaijage's support at the end of a telephone at all times. We plan to expand our palliative care team and train other staff in this vital field over time.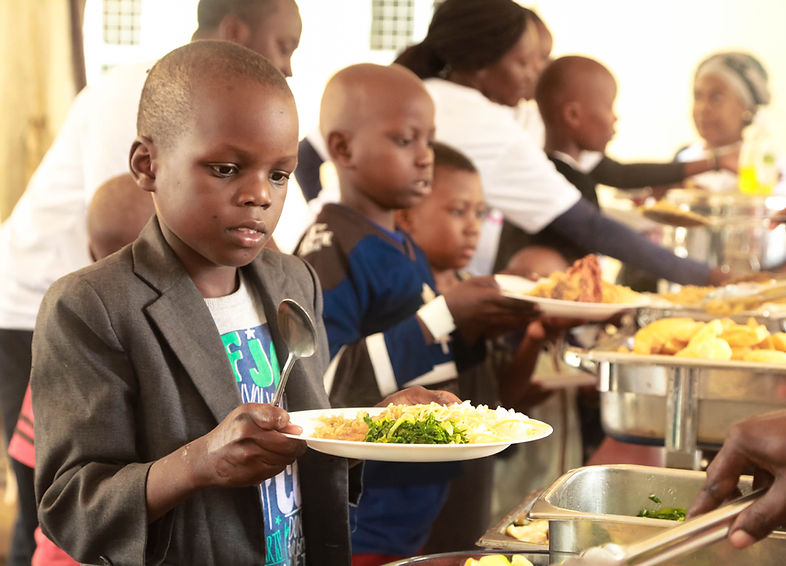 Currently MNH in Dar es Salaam is the only children's cancer facility treating all children with cancer. Many villages and towns of Tanzania are many days overland travel away. Most families live on the ward for many months and have no income during their stay. To assist these families once they have completed treatment, bus or train tickets are purchased on their behalf.
We also have the assistance of a local airline who transfer palliative care children home in some comfort and speed.
We also offer a transport service for children who are identified as probable oncology patients in hospitals around the country. Money is sent from our team to a designated local staff member, who then purchases the bus tickets. Children and carers are thus transported to Dar es Salaam. This service will be expanded when KCMC and Bugando are functioning paediatric oncology centres. Their services will significantly reduce travel times for a large proportion of patients.
A bus was donated to children in MNH in order to give them the opportunity to escape the confines of the hospital and explore the world. It is also used for some administrative tasks for the smooth flowing of the day to day service.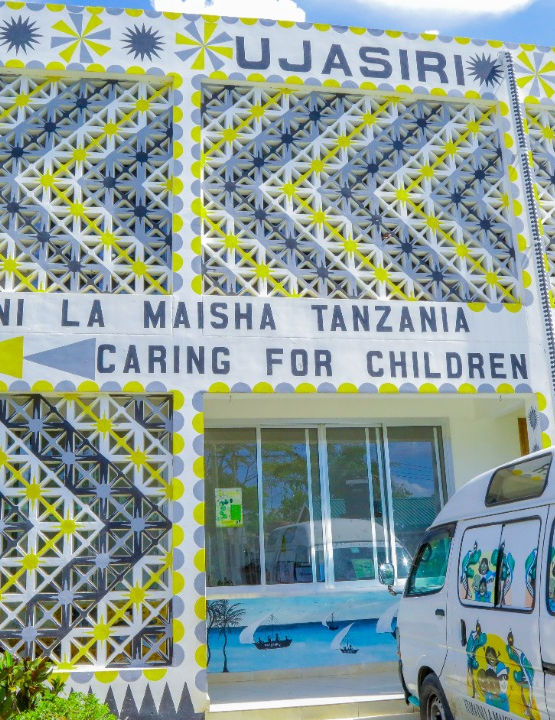 To alleviate the overcrowding on the ward and give families/guardians a home away from home while waiting for the next treatment cycle a family house is located on the grounds of MNH. Currently each family is provided with 3 meals a day, education and play activities, security services for 24 hours a day, bed linen and cleaning, furnishing and house attendants to look after the buildings and grounds. In order to expand our services to KCMC and Bugando, we will need the following resources:
3 meals per day for in-patients and carers
Utility bills such as electricity, water, etc
Bed linens and cleaning
Furnishings including beds, tables, chairs, window blinds, mosquito nets, etc.
2 house attendants to clean and look after the buildings and grounds.
Collection and delivery of food from the kitchen to the housing unit
A housing manager to oversee the facility grounds
​
​