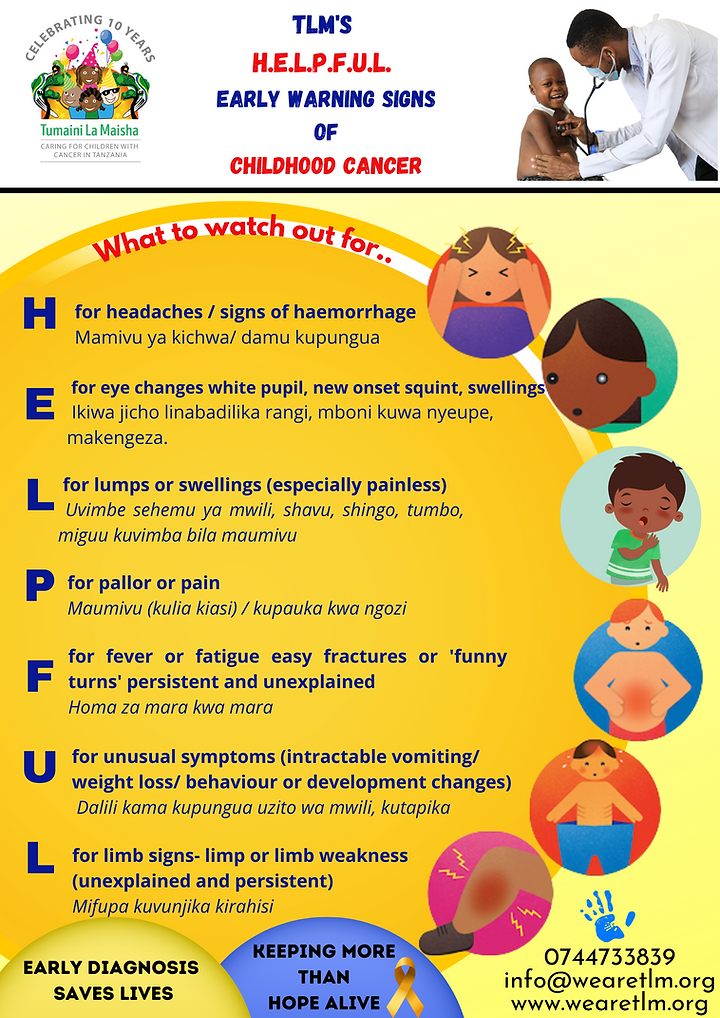 General awareness Programme
Our general awareness programme uses local and national media platforms to deliver easy to understand message to the general public regarding children's cancer. This will include early warning signs and how to access care. Since many of the common childhood cancers are characterized by visual observed symptoms, education through television, radio newspapers and billboards have the potential to drastically reduce the time it takes from the family notice that 'something is wrong' and increases the chance to seek out necessary treatment. This leads to increased survival rates and a reduction in serious side effects for survivors such as the loss of an eye to retinal cancer. At the same time, earlier diagnosis reduces the cost of treatment substantially as children stay in hospital for a shorter period of time and fewer drugs are used in treatment. This, in turn, would improve long-term sustainability of childhood cancer treatment in Tanzania.
Health professional Outreach Programme
Our outreach team who are tasked with educating and partnering with other organisations and hospitals will also assist with the follow up of children who have been deemed 'lost to follow up'. This programme focuses on the education of first-line medical staff in catchment areas, enabling them to identify early warning signs of childhood cancer and correctly refer children through existing channels. This is done in cooperation with already established partnerships with two University Hospitals – Kilimanjaro Christian Medical Centre (KCMC) in Moshi, Bugando Medical Centre (BMC) and other peripheral hospitals such as Sengerema Hospital, Comprehensive Community Based Rehabilitation in Tanzania (CCBRT) and build on the successes and lessons learned from the 'Early Intervention for Childhood Disability' project. Through this outreach we will be able to ensure that first line healthcare workers are aware of the referral process and the resources available to their patients that demonstrate the early signs of childhood cancers. This outreach will thus increase earlier diagnosis along with the chances of recovery.
Retinoblastoma is one of the most common childhood cancers in Tanzania. The video below shows some of the warning signs to look out for to save the sight and potentially the life of the child.