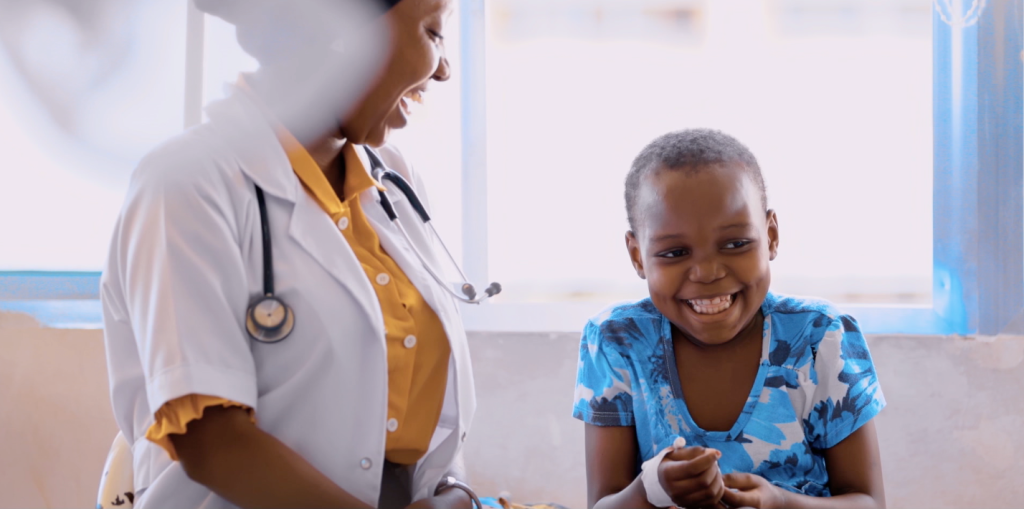 Objectives
In terms of children's cancer services, Tanzania is already proudly, the most collaborative country across the continent of Africa. All current treatment centres use the same protocols, pool chemotherapy from a single source (We Are TLM) and participate in weekly tumour board discussion calls. This model has worked in the existing centres structure. There is every reason to believe that this model could be expanded until it is truly national. We want every child with cancer in Tanzania to have a fighting chance.
With a goal of twenty-seven collaborative treatment centres within the network in five to ten years, TLMSP covers the first five years, (the period 2021-2025) of this expansion. We have not limited ourselves in our ambition: the ideal is to achieve twenty-seven centres in five years. We do however understand there are many factors to aid or hinder this goal and as such have suggested ten years as a reasonable maximum timeline.
Approach
Given that our expansion aims to reach as many children as early as possible, our approach considers many factors. Firstly, we have compiled and studied in detail all available patient data and referral records for Paediatric Oncology cases over a period exceeding eight years. Secondly, the health service distribution across various landscapes and transport infrastructures of the regions, both difficult to reach and densely populated, has been studied in identifying appropriate partner centres.
As shown in Fig. 2, thanks to our partners at Duke University, who kindly mapped the population and available health service centres, we believe that a minimum of twenty-seven treatment centres (a combination of Quaternary- Tertiary-Secondary (Q-T-S centres – see below for details) are required to access 95% of the target population with a four-hour journey from home to participating hospital.
The following three project areas will be undertaken across the network depending on the care level of the partner facility. Click on each to learn more.
To Build a National clinical network to reach every child with cancer in Tanzania by:

Mapping the patient need
Mapping the sites

The current versus the required reach
Identifying most appropriate sites to invite and include to the network

Defining the Levels of Paediatric Oncology Care
Developing a National Timetable of expansion/strengthening goals.
Following a scientific mapping of Tanzania conducted by our partners at University of Notre Dame and Duke University, TLMSP outlines the five-year period 2021-2025 of our continued expansion. To move toward our goal of reaching 100% of children with cancer in Tanzania, we aim to expand our network to partner with a minimum of 36 centres nationwide.
​Once achieved, over 98% of our target population will live no more than a four-hour journey from a participating site. We aim in the coming 5-10 years to complete this national expansion. We have stratified centres in four tiers (Hub and spoke model) whose care level range from suspecting cancer, rapidly and safely transferring a child, to high quality Quaternary level care (Hub). WeAreTLM is committed to providing chemotherapy, training, transport and supervision, among other supports to each centre (Spoke), appropriate to the clinical level of each site. We recognize that this is a huge task but we are committed and more focused than ever on reaching our goal.
To Strengthen the quality of care offered by the sites in the network by

Creating a reliable supply chain for quality chemotherapy and supportive care medications
Building a secure national and local distribution system

Including cold chain capabilities.

Implementing and transitioning from the TLM E-ACPP to the TLM SAFE Chemotherapy APP (automated chemotherapy prescribing platforms)
Adherence to treatment Initiatives and supports
Offering a range of Training across clinical and non-clinical programme aspects
Implementing that TLM Electronic Medical Record System for Paediatric Oncology
We are currently working with our partners Direct Relief to devise an appropriate nationwide distribution system to ensure the safe transport of chemotherapy to every participating site. We are developing multiple innovative technologies such as our Excel-based Automated Chemotherapy Prescribing Programme (E-ACPP), our exciting online prescribing App CleverChemo and our TLM Paediatric Oncology CleverCharts Electronic Medical Record System (EMRS) for children's cancer. All are designed specifically for SSA and similarly resourced settings. Our E-ACPP Chemo App has been hailed at the International Society of Paediatric Oncology (SIOP) conference as ground breaking and a pivotal innovation for African oncology.
To Ensure NGO core Strengthening and capacity building for the WeAreTLM group we will develop all areas outlined below:
Governance and Monitoring and Evaluation Systems.
Team building and training
Structural and Communications development
With thirty-three staff employed at our MNH Hub and a current annual operational budget of $1,500,000, of which 60% goes towards the procurement of chemotherapy drugs we are a relatively small, but highly capable organisation. We have managed grants exceeding $2,000,000 with which: we have built wards – including Paediatric and Neonatal Intensive Care and Oncology units; procured world-class drugs and hospital equipment; and designed and supported medical training – including an MSc and Paediatric Oncology Nursing Certificate courses. We have created multiple medical and psychosocial manuals, Play Therapy tools, storybooks and pocket guides all open sourced and designed for resource limited settings.