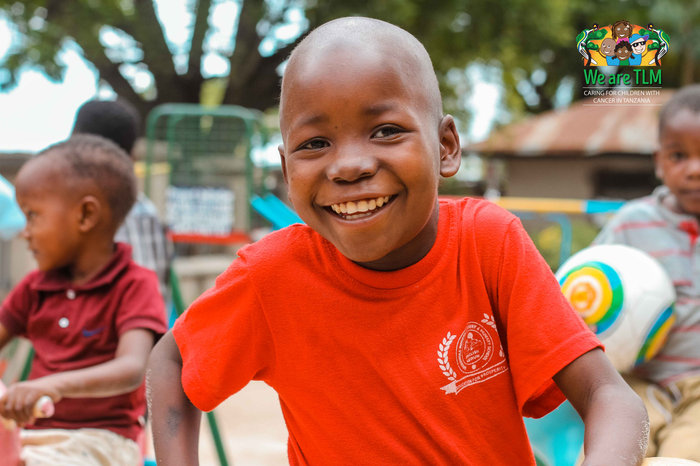 Salama Study
The quarter kicked off with a University College Dublin Web Summit and the announcement of SALAMA (Studying Acute Leukaemia Mutations in Africa), which also means 'safe and well' in Swahili, an exciting study we are delighted to form part of in collaboration with Systems Biology Ireland, University College Dublin, the Little Princess Trust UK, Children's Cancer and Leukaemia Group and our colleagues and friends at Muhimbili National Hospital. Support also comes from Genuity Science, Prof. Anna Schuh at Oxford University who is also involved in social enterprise SEREN. Key figures Prof. Jonathan Bond and Dr. Peter McCarthy will continue our long established partnership with UCD and Irish Health Institutions through the exciting study which has the potential to 'change a good chunk of the children's lives' a quote from Dr Trish in a full article about SALAMA Study and it's partners. The study will hopefully inform better treatment of Leukaemia patients and their specific case challenges through tackling the limited availability of genetic information and therefore the 'gap' between childhood cancer treatment in resource rich and resource poor settings.
Launch of #dayinthelife
We took to Instagram reels to show our followers a day in the life at TLM! Check out Pharmacist Ezekiel, Nurse Ruchius, Ujasiri House Supervisor Hilda and others showing you their daily routines here! We look forward to many more #dayinthelife stories to show the many and varied moving parts of childhood cancer treatment with Tumaini La Maisha.
Outreach
We have been busy working to expand the number of centres we partner with and strengthen existing partnerships to provide childhood cancer care as part of the National Children's Cancer Network (NCCN).
This Quarter we visited;
KCMC to meet Drs Esther, Elton and Mkwezo to see their brand new oncology ward and meet some of the patients receiving TLM sponsored Chemotherapy.
Zanzibar to strengthen partnerships there with the ministry
Ifakara to meet with potential new centres and take time for team building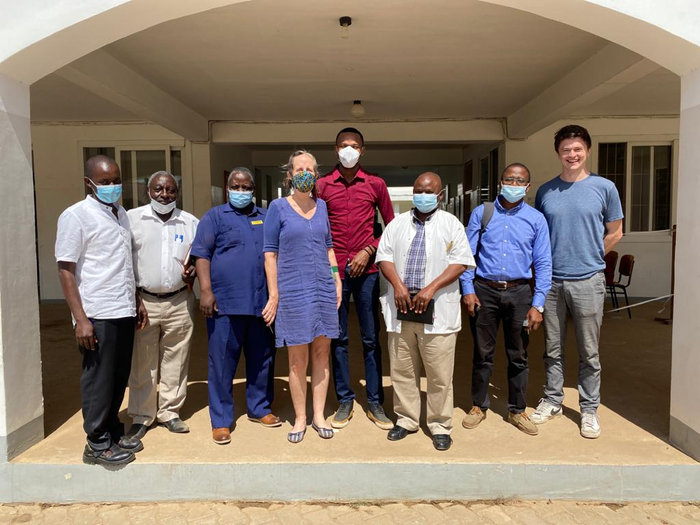 Staff training at the Fund Raising School at the Indiana University Lilly Family School of Philanthropy
Thanks to our friends and Partners at St. Jude Children's Research Hospital and the American Lebanese Syrain Associated Charities (ALSAC), five certificate courses across the principles of fundraising have been made available to TLM staff, volunteers and board members. We have all really enjoyed the courses, getting to know our fellow childhood cancer advocates and organisations in these intensive and fulfilling courses. TLM team members have taken part in courses including Annual Sustainability, Purposeful Boards, Powerful Fundraising, Fundraising for Small Nonprofits and Advanced Digital Fundraising! Feedback has been overwhelmingly positive and results have made us incredibly proud! Take a look at Finance Officer Elywangu's certificate below!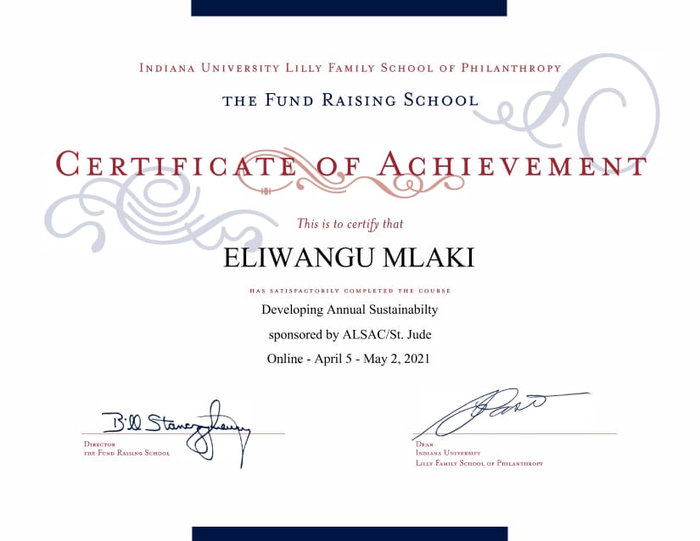 Scans Yangu
Angus Olsen began creating visual resources for children and families facing childhood cancer when his 2 year old daughter Jane was diagnosed with Embryonal Rhabdomyosarcoma or ERMS in 2016. I draw Childhood Cancer's website and FaceBook page have many resources and offer visual stories about life and daily routines with childhood cancer. They kindly agreed for us to translate their book 'My Scans' into Kiswahili for our children, the english version can be found by clicking Scans above!
Artisan Market
The Artisan Market is a key feature in the Dar es Salaam culture and craft calendar and we are so grateful to be included and advocate for childhood cancer through the parents crafts. Through our psycho-social programme the parents, family members and often children at the Upendo and Tumaini Children's Cancer Wards and Ujasiri Outpatient hostel are offered skills and craft classes. Skills Teacher Prisca leads the classes and is a key member of the TLM Team. The classes focus on developing crafts such as tailoring, beadwork and promoting a positive and open atmosphere for parents and family members of children undergoing cancer treatment at Muhimbili Hospital. Thank you to TLM Tanzania Board Member Nisha Sanghvi for inviting us to take part and to our HOPAC Childhood Cancer Ambassadors Aanika and Rina for supporting us!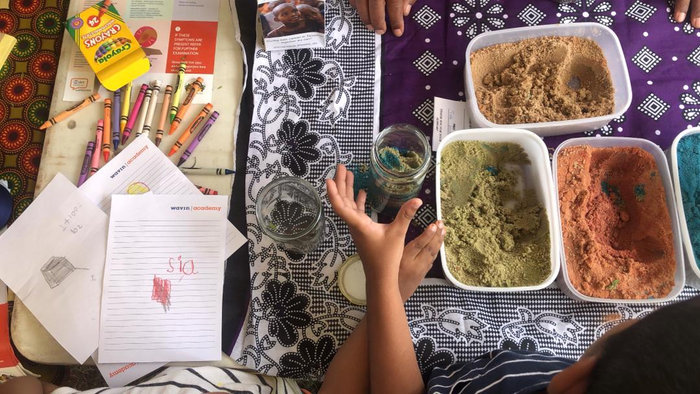 Ramadhan Give For Life Campaign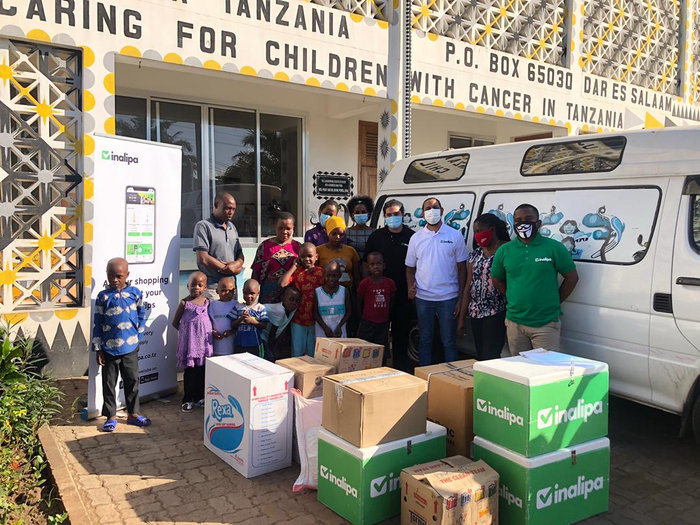 In collaboration with our friends at Inalipa, we launched a Ramadhan campaign – Give For Life and asked the community to give with meaning and purpose for children with cancer during the giving season. We highlighted four ways to 'Give For Life', one being to take part in a Kibubu – Piggy Bank fundraising and Awareness campaign, to buy us a bundle of good on our personalised Inalipa store page, to donate gifts in kind to Ujasiri House or to donate funds via wearetlmdonation.org. The campaign was a huge success and the children were particularly excited when Inalipa arrived to drop off all the gifts! Thank you to all involved!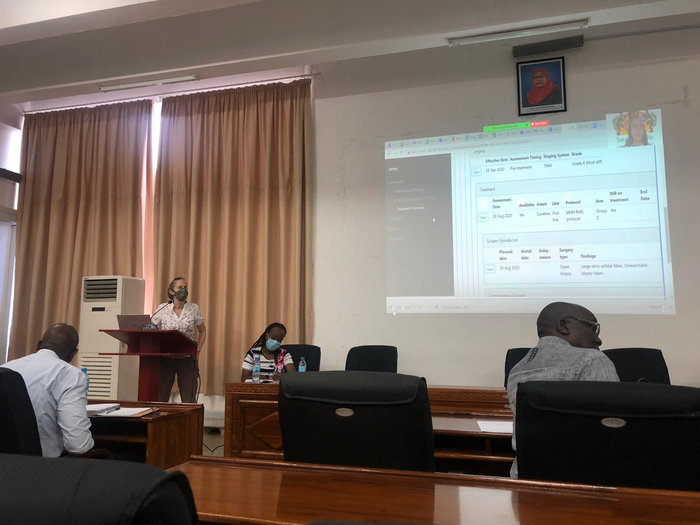 Presentation to Muhimbili National Hospital on our CLEVER Cancer Care innovations: On May 26th, TLM was invited to present on our innovative electronic medical records system (EMRS): Clever Charts. Clever Charts is one of two innovative electronic resources TLM has created as part of the CLEVER Cancer Care suite of programmes. Clever Sheets, our automated chemotherapy prescribing platform is the second and is in its final stages of development – watch this space! Dr Trish presented to Muhimbili staff and management including Executive Director Professor Museru. The presentation included a look into the Clever sheets which can be seen on our website. Clever Sheets has been designed with lower resourced childhood cancer service provision in mind, but can be customised and used in a wide variety of medical settings to reflect a given services' need. We will be rolling out the programme to Muhimbili and our outreach partners across Tanzania before offering the service to countries in Africa and across the world. This suite of programmes has the potential to transform children's cancer care in low resourced settings and sustainably improve treatment outcomes. We are committed to sharing the progress we have been able to implement for every child, the world over – Their Lives Matter!
PICU DAY
In November 2019, TLM together with Muhimbili National Hospital, Friends of Cancer Patients UAE, her Highness the Queen of Sharjah, the UAE Embassy, the Irish Embassy and TLM Tanzania founding Board Member and current Board Chair Gerald Mongella celebrated the opening of the PICU & NICU wards at MNH. The plan and build of these pivotal resources at MNH was funded by a generous donation from Friends of Cancer Patients and implemented by TLM & MNH together. On Friday May 28th 2021, we came together again to celebrate PICU day and took a look at some of the impact these powerful resources have had in that short time. Namely, since the opening of these resources, the mortality rates for children admitted has gone from >65% to 36.4%, MNH-PICU protocols have been developed and implemented and the PICU team has taken part in the RSV Gold ICU Network Study. We are honoured to be part of this change and look forward to further growth and development – congratulations to all involved! Check out our PICU Video here.
00:0003:29
BID FOR LIFE CALL FOR ART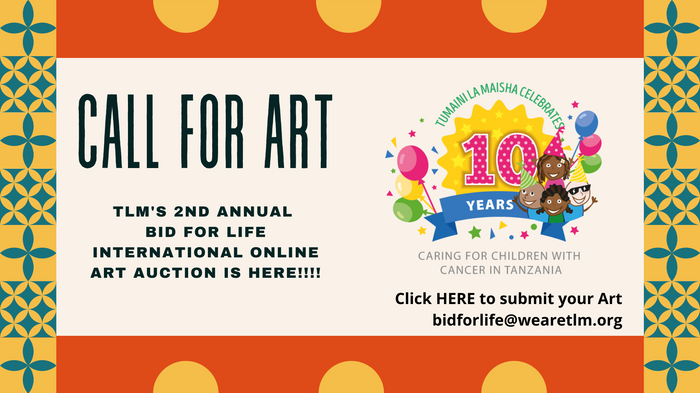 Bid For Life is back – in a big way! We launched our Call for Art on June 4th and have been blown away by the beautiful selection of paintings, photos, prints and more that you have submitted! If you would like to submit art for this year's auction, find more information by clicking 'Bid' above! The closing date for submissions is September 4th 2021 and the auction will launch on October 2nd.
Piggy Bank Champs! We have been busy running around to distribute and collect piggy banks to our amazing school partners and future leaders!! From the International Childhood Cancer Day day campaign we launched on February 15th of this year, we collected the last school's piggys – and what a collection it was!! Readers Rabbits – the small school with a massive heart, collected a whopping 11 MILLION Tanzanian Shillings ($4,743). We collected the funds at the school's Graduation Ceremony and were treated to an afternoon of dance, debate, friendship and fun. We even heard first hand from some of the children why they like partaking in Piggy Bank Campaigns and which parent helps them build up their box! Thank you as always to the Readers Rabbits team and of course Ms Jigna, the life force behind it all.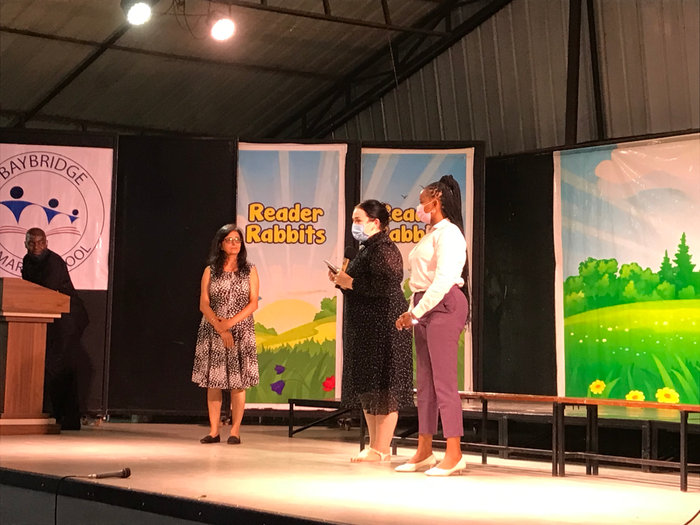 Our Hopac Heroes, students Aanika and Rina, worked tirelessly as student ambassadors to promote the piggy Bank Campaign in their School HOPAC and completely smashed it!! They raised over 6.3 MILLION Tanzania Shillings ($2,700+ USD) and joined us as volunteer interns for the summer weeks!! Look and listen to their experiences and motivations here!
00:0000:28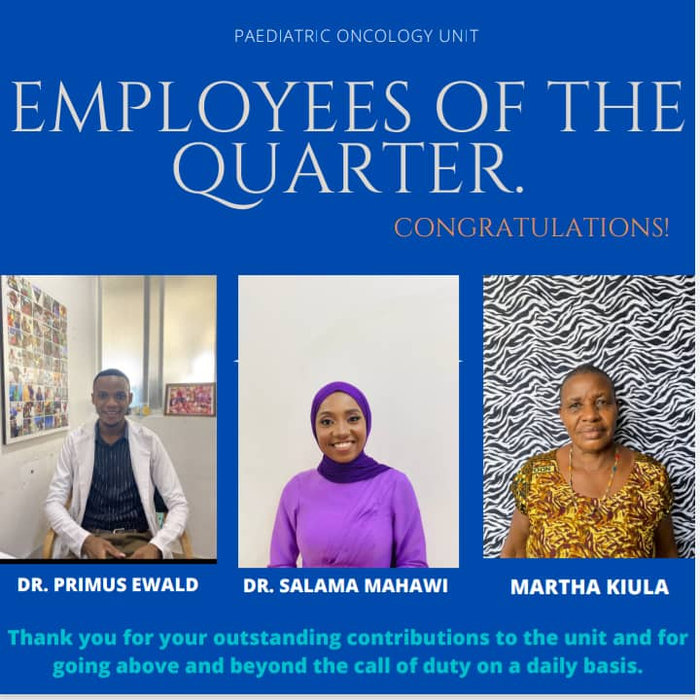 STAR STAFF MEMBERS!
The TLM Family have spoken and voted on their medical and non-medical staff members of the quarter! The non-medical winner (by landslide!) is Martha (Mama) Kiula our Patient Liaison Officer, and the medical winners (tied) are Dr Primus our Medical Programmes Manager and Dr Salama! Congratulations to all and thank you for your dedication and hard work!
Síne Vasquez partnership is live!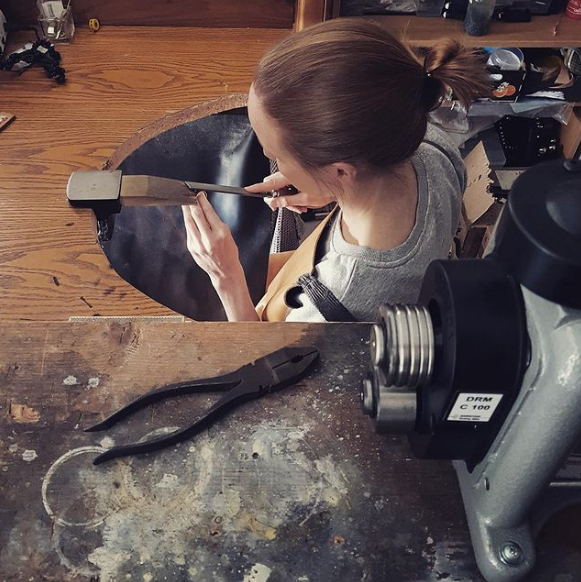 We are so grateful to specialist cancer physiotherapist and Jewellery Maker Síne Vasquez for choosing to give back while launching her online fine jewellery website and store. Síne has committed to donating 10% of the sales of her beautiful bespoke pieces to Tumaini La Maisha. Her pieces are made using recycled gold, carefully sourced gemstones and favour sustainable production. She skillfully and thoughtfully uses traditional goldsmithing techniques to reflect the time and skill embedded in considered craftmanship that she believes to be our one true modern luxury.
Take a look at Síne's pieces here and support her beautiful work while giving back to Tumaini La Maisha – together we can!
HELPFUL VIDEO LAUNCH
Take a look here at our newest YouTube Video featuring our patients and their parents talking about early warning signs of childhood cancer.
00:0000:28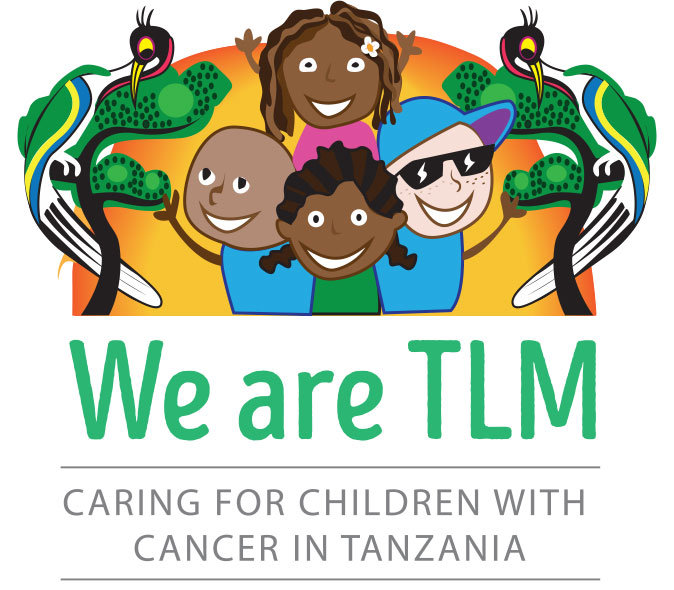 We Are TLM and we want to hear from you!